The Littlest Tumor Foundation in the Press
NBC26 Cares featured us! We are very thankful to be showcased by a great media outlet.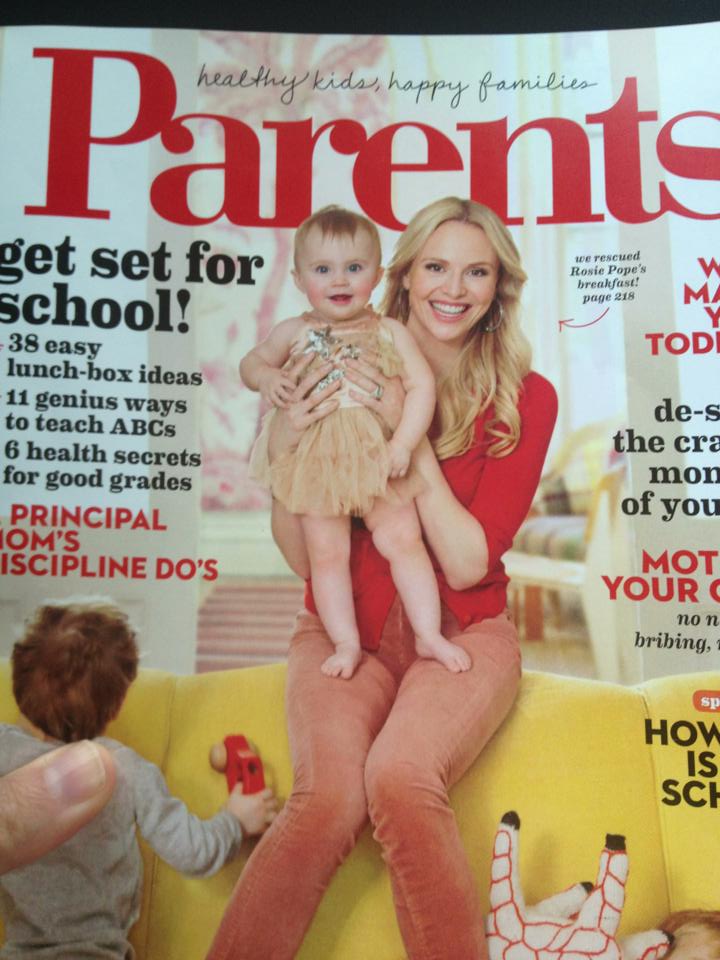 We were thrilled, honored, and so HAPPY to be in Parents magazine. Bring on national NF awareness!
I write this as I sit in an MRI room while my 8-year-old son Sami is scanned for the umpteenth time. Here we go – this is a big one. It is a follow-up scan from one just over a week ago. Enhancement. A possible brain tumor. All the other tumors are stable and I am told not to worry yet. This is not possible. But this is not where our story begins. It actually began in a doctor's office three and a half years ago.
"Neurofibromatosis." "Neurofibromatosis." "Neurofibromatosis." I make the doctor repeat this word numerous times when he informs me my son Sami will need to see a specialist to confirm the diagnosis of Neurofibromatosis (NF). In my mom panic, I blurt out, "It's not serious, right?" The doctor replies, "It can be not serious." Yet, just like all of you who spend time reading doctor's faces – I know this is not good. On to the world wide web – ahhhh, confirmed – not good. Maybe, just maybe, Sami doesn't have it? But the specialist later confirms NF at his diagnostic appointment. Our conversation basically plays out like this:
Me:
What does this mean for my Sami?
Doctor:
He will get tumors.
Me:
Maybe he won't.
Doctor:
He will.
Me:
Maybe he won't.
Doctor:
Yes, he will.
Me:
Okay how many?
Doctor:
Ten to thousands.So there it is: no cure, no real treatment, no denying it, no possibility he will escape tumors. We leave the office a different family. What happens next? I imagine our story is similar to many people or families who receive a life-changing diagnosis. We fall down, get up, fall down, get up and live life. We change course.Neurofibromatosis, in a nutshell, means your tumor suppressor does not properly function and every nerve cell in your body has the potential to become a tumor. It also presents a whole lot of other health issues. In our case, Neurofibromatosis also becomes our family's catalyst for change. One personal change, for us, is nutrition. I jumped in all the way after reading everything I can on tumor prevention and we go raw. I will not lie: There is actual crying at the dinner table. I see three sad little faces (and a dad) all of who are trying to embrace a new raw lifestyle. So we scale back a bit and now eat primarily a plant-based diet and are conscious about our food choices.My youngest son loves green juice, and drinks it and asks for it on a daily basis. After this MRI, though, we will take the big plunge and go to a completely plant-based diet and see if it has any impact on his tumor growth. We make the decision to eat real food, primarily plants. We start with small changes.
We also go to a summer family retreat. We spend time in the hills with monks, nuns and discover practicing meditation and compassion with other families is transformative to the soul. It helps us to be a bit more mindful in our lives. Moreover, our children shine so bright with all this compassionate attention focused on them. We become part of the NF community, which is also a change in our lives. We meet other families, doctors, researchers, organizers in the field and connect on boards. Knowledge and these types of connections are essential.
I end up becoming a fundraising mom – this is a really big change for me. Again, I jump right in head-first hoping, praying for a treatment before even one tumor shows up in our Sami. I enlist everyone; family, friends, neighbors, community. Even people at cocktail parties are recruited for big jobs. This leads to the creation of our group the Littlest Tumor Foundation and a new career for me with a lot of adventures and hard work. Sami and I even get to meet President Obama to speak about healthcare and NF.
Living MRI to MRI has lit a fire in our family and lent to our message which we share with the Littlest Tumor Foundation. Today there are few successful pediatric tumor treatments. This is unnecessary and we can do better. Simple. Just like our foundation, our goals are simple: We raise research dollars for innovative research, we promote and embrace wellness with our annual family retreat and we want the world to know about our cause.
As for our Sami, he becomes a brave soul. Tumors do indeed show up. He braves up for PET scans, MRIs, first opinions, second opinions, surgery, more MRIs and too many specialists to count. He does this all while continuing to be a truly joyful, happy child. (He does much better than his mom, in case you're wondering).
So when the tumors do indeed show up it all becomes very real – or surreal – to this mother to be speaking to specialists and surgeons about the fast-growing mass in our child. Time to make the big grown-up decisions in life. It is not simple, as all the specialists and surgeons have differing opinions. So we arm ourselves with all possible information and make the decision to jump. We decide to operate and feel we have found truly the best surgeon on the planet to remove this tumor. Off we head to Chicago to operate, and for all of you who have been in these shoes, you know it feels so incredibly wrong. You put on a brave face and move forward. You slip in and out of the stages of grief: mad at everyone, sad, making deals with God. I finally settle on consciously focusing on envisioning him awaking from surgery. He does and asks if they got the tumor, then adding he'd like to see it so he can bring it to his science class, as he just knows his science teacher Miss Becky will want to see it.
So we survive this tumor and now watch others and continue on with our journey like so many others. Our Sami continues to keep us focused. He is essentially the heart and soul of our foundation. He is the spark that causes all these changes and many more. He is the reason we understand as we sit for hours at Children's Hospitals: "Why not us?" One look around at the many children facing chronic and catastrophic health issues and its clear – why not us. But most importantly, he is the inspiration that makes us believe why not us be part of the NF solution.
Back to the MRI room, here I sit again, watching my sedated child in an MRI tube again, hoping he does not have a brain tumor. It all feels so crazy. So when I am asked if I have any ideas for other parents in this situation, I simply say: Fall down get up, fall down, get up, fall down, but get up. Small changes in nutrition and wellness could – and will be – huge in the long run. Lastly, join us: We are all in this together and we can channel this crazy life of tumors in our children into a solution.
Tracy Wirtanen runs the Littlest Tumor Foundation. Neurofibromatosis affects 1 in 3,000 and causes tumors to grow anywhere in the body including the brain and spine and can cause a series of other significant health issues. They range from serious skeletal abnormalities to learning issues to difficult to treat cancers. She invites everyone to come together around this extremely important issue to create change.
I was moved this week when I read an article written by my friend's sister. I wanted to use my blog this week to share it with you for two main reasons.
First, I wanted to give some publicity to the rare condition of Neurofibromatosis as it is something that many of us know nothing about. Briefly, it affects 1 in 3,000 children and causes tumors to grow anywhere in the body including the brain and spine and can cause a series of other significant health issues. They range from serious skeletal abnormalities, to endocrine issues, to difficult-to-treat cancers. Much is not understood.
Tracy Wirtanen, the author of the article I read, and my friend's sister, is the mother of an 8-year-old boy, Sami, who is diagnosed with Neurofibromatosis. You can read her blog here, where she wrote as a guest on Kriss Carr's website crazysexylife.com and you can find out more information about Neurofibromatosis at the website of the foundation she created at www.littlesttumorfoundation.comSecondly, in her article, Tracy talks about the changes she and her family have chosen to make with regard to their nutrition, both for Sami and the other members of her family. She talks about the fact that Sami drinks green juice every day, and loves it, he even asks for it! I bring this up, because it highlights something that can get forgotten when we talk about juicing. This stuff is really good for you, at a cellular level. There is a real theraputic benefit in drinking vegetable and fruit juice. Our bodies can use the nutrients provided by the juice to both prevent future tumour growth, and help the body deal heal itself.
Yes, juice is a great vehicle to boost health and vitality, and help us to clean our systems when we have overindulged, but there is a more serious side to its benefits as well. If incorporating it into your diet will allow your body to battle cancer tumours, or give your body the tools it needs to prevent them developing in the first place, then what an incredible gift you can give to yourself, and your children every day! The gift of good health!
For those of you with juicers, then try the following Green Juice recipe, packed full of antioxidants, chlorophyll and good health.
Green Delight:
3 kale stalks
1/4 pineapple (not peeled)
1 apple
1/2 piece ginger (not peeled)
1 stick celery
1/2 lime (not peeled)
Pack the kale into the juicer chute, and put the apple on top, then whizz every thing through the juicer. If you want to add some extra nutrients, then add a spoonful of spirulina to the juice and blend it with some ice.
Please do click on the link to both Tracy's article and her foundations website, she is doing terrific work to educate us about this potentially devastating disease.
If nothing else, give Tracy, Sami and her family a thought or a prayer over the coming weeks, and if you are lucky enough, be thankful for you and your families good health.
Happy Juicing, Jx
http://millburn.patch.com/blog_posts/neurofibromatosis-and-green-juice