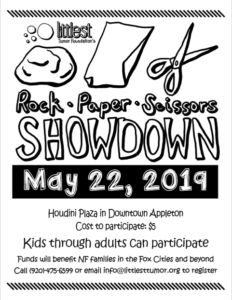 Description
Do you love a little competition? Can you count to three?
If you answered 'Yes' to both of these questions, then this showdown is for you.
We are excited to announce our first 'Rock, Paper, Scissors' tournament at Houdini Plaza.
Pre-register, challenge your friends, and join us for some fun competition and prizes.
All ages welcome. Proceeds from the event directly benefit Littlest Tumor Foundation's impactful programs.
Great fun + Great cause.
Register Here
FAQs
What is the format?
This will be a double elimination tournament and be made up of GAMES, SETS, & MATCHES.
7 GAMES = 1 SET
5 SETS = 1 MATCH.
A SET is determined through a 'Best of 7', SET of games.
To win the MATCH and advance, the competitor must win the 'Best of 5' SETS.
What are the dates and times?
Check-in begins at 5 pm, with play starting shortly after.
What are the prizes?
1st: $25 Unmapped gift card
2nd: $10 Unmapped gift card
3rd: An enthusiastic high five
How can I contact the organizer with any questions?
info@littlesttumor.org or (920) 475-6599