Our NF community is stronger together. We inspire compassion, celebrate NF advancements, and ooze positive vibes only.
Our 10 Core Values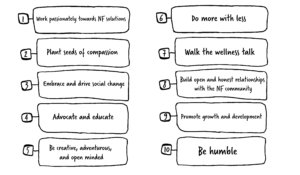 LTF's culture as told by our volunteers & interns:
What are LTF's strengths?
Passion & Compassion
"The strongest word I can use about LTF is 'passion'. We have a passion for spreading the word about NF, empowering affected families, and advancing public funding for research. Passion then connects to mission. We are focused and mission-driven." -Katrin
"The agency is driven by compassion, and surrounded by positivity and growth. The intention to lift the spirits and health of the NF community is powerful." -Melody
Education, Connection & Advocacy
"LTF gets behind the scenes for the NF community. They analyze the needs the community has and bring those needs forward. They gracefully push knowledge and education about NF onto the political sector and community." -Melody
"I would say the greatest strength of LTF is its ability to connect a cause to people." -Kyle
"What I see as LTF's biggest strength is the on-going commitment to educate others, empower families, and advocate for NF research." -Kimberly
What makes LTF different?
Wellness Retreat & Family Empowerment
"One unique aspect of LTF is our retreat's goal of helping the whole NF-affected family, not just the child or teen with the condition." -Katrin
Having a Voice
"The Littlest Tumor Foundation is unique in the fact that it is a grass-roots organization where everybody has a voice. We are not simply told what to do, we are asked to give our input into every project we have going on and we are given the encouragement and support with the projects we are working on." -Jolene
Holistic Support
"I believe LTF is different because it is a foundation that concentrates on families as a whole and provides education, services, and funding at no cost of service. I think it is great because families are already spending money on other things: hospital visits, chemo, travel, and just daily life expenses. LTF is able to give families support, education, and advocacy services all in one place which is very unique compared to other foundations that typically specialize in one area." -Kimberly
Hope
"LTF is different from other NPOs or other companies because of its unusual mission and its vision. I believe it is a vision of hope and that makes people want to be part of the organization." -Terrence
How Does LTF support volunteers and interns?
Life-Changing Learning
"I enjoyed interning at this foundation because I was able to become knowledgeable about NF along with how to coordinate an event, advocate this cause, and empower affected families. It was not only a rewarding experience, but also a life changing experience to say the least." -Hailey
"I learned the importance of research and a healthy lifestyle. I learned that it only takes as little as one person to change the world." -Bimal
"I have been involved with the Littlest Tumor Foundation since the very beginning. It has helped me to learn so much about Neurofibromatosis, the impact it has on the families, the need for advocacy and most importantly about myself." -Jolene
"I am an LTF forever supporter: because tumors in children… I do not like them!" -Kimberly